The Inside Relationship (continued)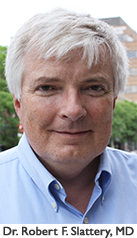 Children, however, don't have the problem of hiding their negative reaction to what's different. A child will go up to an adult and say, "You're so tall, but your head is so small" or "Your hat looks silly." They'll name what's different. Or, they will stare at someone in a wheelchair, for instance.
Whereas an adult has learned to inhibit their negative reaction to what's different from them. But, that becomes a terrible problem that builds up in the unconscious. It's almost better to name it up front and then move on from there. (This view is a controversial point.)
I remember, when I was a resident, I was assigned to a partner for a year. All day, every day and every third night we worked together. Prior to first meeting him in person, I heard that his name was Dr. White. Then, I met him; and he was black. I said, "Dr. White, you're black!" He said, "Dr. Slattery, your white!" So, the elephant in the room was kind of acknowledged. And, that felt pretty helpful.